TV Installations – Plasma, LCD and LED TV's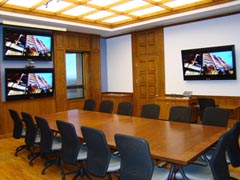 Installation of cabling and equipment for Plasma, LCD and LED TVs can be undertaken and linked into your existing data systems as well as linked to speakers, projectors and computer conferencing. All equipment for mounting and securing your equipment is also undertaken.
Meeting Room Audio Visual Installations
Installation of conference equipment such as TV screens, projectors, speakers, and microphones. These systems can also be wired and built into your existing desks to provide discrete controls and cable management.
Conference Centre Audio Visual Installations
For large scale conference centres we can incorporate cabling and equipment into ceilings, stages, seat locations and control centres to create an amphitheatre for your conference and training needs.
Smartboards and Education Whiteboards
With our extensive experience in the education field we can install projectors, white boards and smart boards into education and learning centre environments. These can be linked in to your existing cabling infrastructure.
Video Conferencing
For remote conferencing and multi site training links, state of the art video conferencing systems can be installed and tailored to your requirements.
Out of Hours Audio Visual Installations
To minimise disruption and minimise closure of rooms, we provide installation 24 hours a day 7 days a week to fit in with our clients and their business schedule.