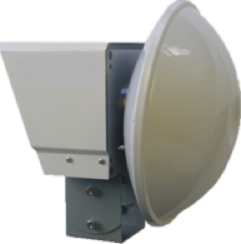 Elan Networks install the latest state of the art technology in the field of wireless communication.
We use Laser technology to transmit information between 2 points which have a clear 'line of sight' between them. Laser links (also known as FSO, wireless optics or optical wireless) are capable of transmitting virtually any kind of digital information including data, voice, and video between two direct points.
For 'non line of sight' setups we can offer units which can operate without the need for the units to physically see each other.
Advantages of Laser Links
No rental cost - total ownership of solution - can be re-deployed easily to new buildings.
License free operation.

Laser links are an ideal alternative to leased lines or optical fibre when linking sites together, and are often the preferred alternative where cable link is impractical. They are immune to interference and are used extensively for resilience and disaster recovery.

Ideal for setting up disaster recovery alternatives to leased lines.
Ideal for urban areas or city centres where the use of leased lines is expensive and is suitable for factories or industrial environments where high noise levels can interfere with transmitted data.